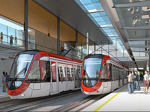 Upon completion in 2023, this project will bring 70% of residents within five kilometres of rail. With Ottawa projected to grow to over one million people by 2031 and so the city's transportation infrastructure will be of the utmost importance.
The project comprises the design, build and partial finance of the extension of the existing Confederation Line LRT to the east and west. The Confederation Line West Extension will add 14.5 kilometres of LRT service from Pré-Tunney's Pasture with 11 new stations and the Confederation Line East Extension will add 12.5 kilometres of service from Blair Station with five new stations.
Infrata's Role
Starting in early 2018, Infrata is currently providing Lenders' Technical Advisory services up to bid submission.
Services Offered For Investors
Technical Advisory
Our technical advisory services underpin all the work that we do. Our advisors are with you every step of the way, from the stage of evaluating investment opportunities, to value creation and divestiture.
Read More